Scully Company has been awarded a Top Workplaces 2021 honor by The Philadelphia Inquirer. The list is based solely on employee feedback gathered through a third-party survey administered by research partner Energage, LLC, a leading provider of technology-based employee engagement tools. The anonymous survey measures several aspects of workplace culture, including alignment, execution, and connection, just to name a few.
With an above average empl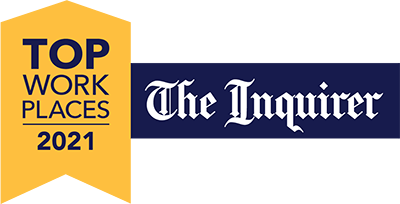 oyee participation rate of 74%, the top words employees used to describe Scully Company were pride, inclusive, and family. Results applauded Scully Company on encouraging different points of view, operating by strong values, and supporting innovation.
"Everything we do in our business is done for people, by people. Our team is our greatest asset and a top priority," said Jessica Scully, President of Scully Company. We always embrace the opportunity to get feedback from our employees, which is what drives our entry into the Top Workplaces competition. We have already implemented feedback from our surveys and will continue to do so. This allows our employees to play a major role in the direction of the company."
Scully Company's notable 73% employee retention rate is well above the 50% industry average, and the average employee tenure is an impressive 10 years. Scully employees share what they love about their company:
"You are not just a number. It's family owned and you are treated as part of the family. Incredible benefits. Very generous compensation package" – Scully Company Community Manager
"It pushes me to my fullest potential. Everyday is something different and I feel accomplished at the end of the days when my to do list has been checked off. I enjoy helping people and problem solving. My job enables me to do what I love!" – Scully Company Office Employee
"Ever since I started I was well taken care of. I honestly feel loved and appreciated." – Scully Company Maintenance Technician
"I started here with very little experience and have worked my way up to management." – Scully Company Service Manager
Ready to join Scully's inclusive workforce? Visit the Careers Page.